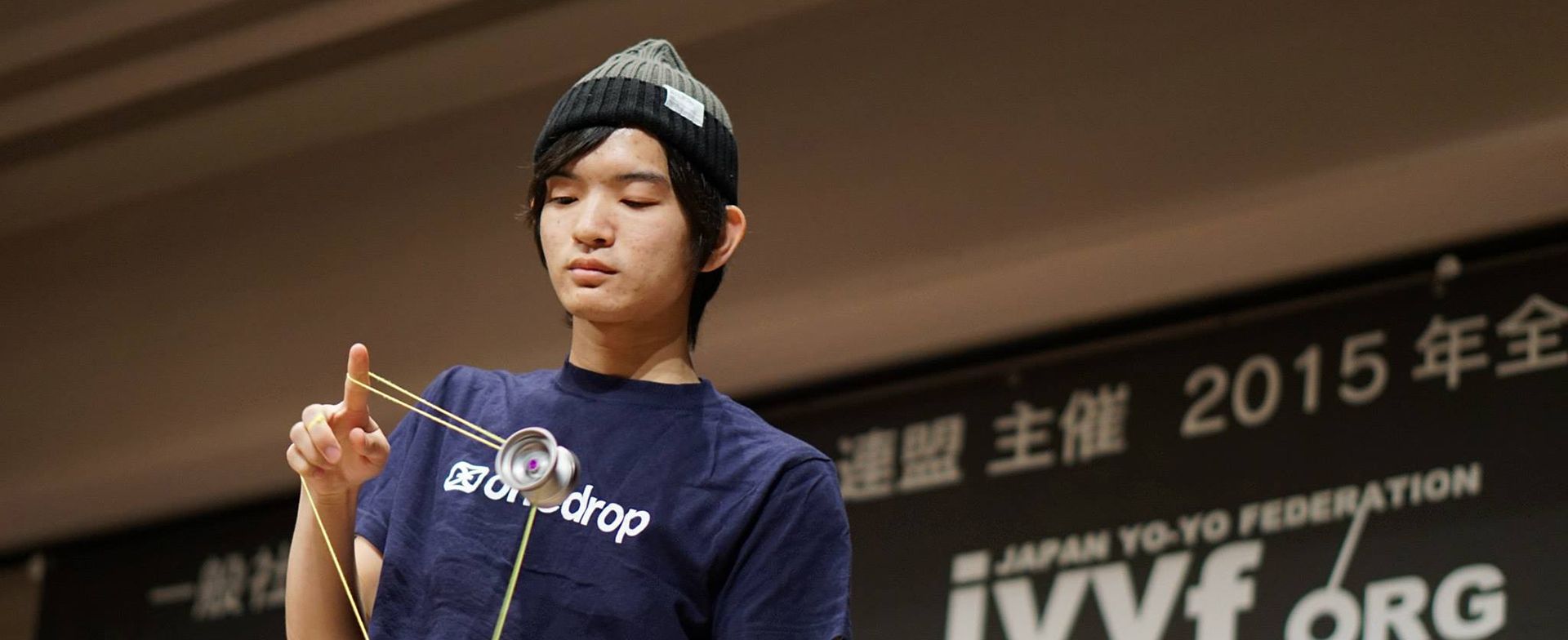 Daiju Okamura
Introduction
As a full time university student majoring in Faculty of Engineering and Design, Daiju Okamura has a lot on his plate. Between studies and working at Spin Gear, Daiju finds time to construct beautifully fluid trick sets.
We're honored to have Daiju on the team. We can't wait to see his growth as a yoyo player and as a person.
YoYo History
"My first yoyo experience was a Coca-Cola yoyo I got as a free gift when buying a coke. I somehow got addicted playing with this cheap yoyo, and learned all tricks listed on the tiny trick manual attached to it.
Sometime after getting bored playing with this yoyo, I came across with a yoyo shop Spingear in Tokyo. I was very excited to see all the high-end yoyos all around in the shop, and had great time talking with the staffs about yoyo maintenance and modern yoyo tricks. I started visiting the shop on a weekly basis, and I was lucky enough to learn tricks from the top players Yu Kawada, Hidemasa Semba, and John Ando who were working at Spingear at this time. Their tricks were just amazing and inspired me a lot. After learning the basics of yo-yoing at Spingear for one year, I joined the Japan National Yoyo Contest in 2007. My final result was around 50th place at this contest, and I still remember getting super nervous on the stage and missing even easy tricks with my sweaty hands. But this experience motivated to practice more and changed my mind. I first thought it is satisfying and fun enough to learn tricks which I wanted to show off, but after this contest, my goal has changed to winning the contest.
Then, after my hard practicing days, I finally managed to create my own tricks. I personally think this trick creation is the best part of yo-yoing. Whether those tricks are arranged version of other players' or completely new one, words cannot describe how great I feel when I came up with my own tricks.
By the way, this is just an advice for yoyoers out there but when I got stuck when making a new trick, I tend to take a short break and do something different from yo-yoing. Even non-yoyo related stuffs might give you new ideas for making a new trick or building combos.
I am truly honored to join the team onedrop. I'd like to thank Paul and all onedrop crews for adding me to the team. Especially I would like to thank Ryosuke Kawamura, the very first Japanese crew of team onedrop. Without him, I am pretty sure that I could not have gone this far regarding yo-yoing. And of course I appreciate for all my yoyo mates who had been practicing together for all these years."