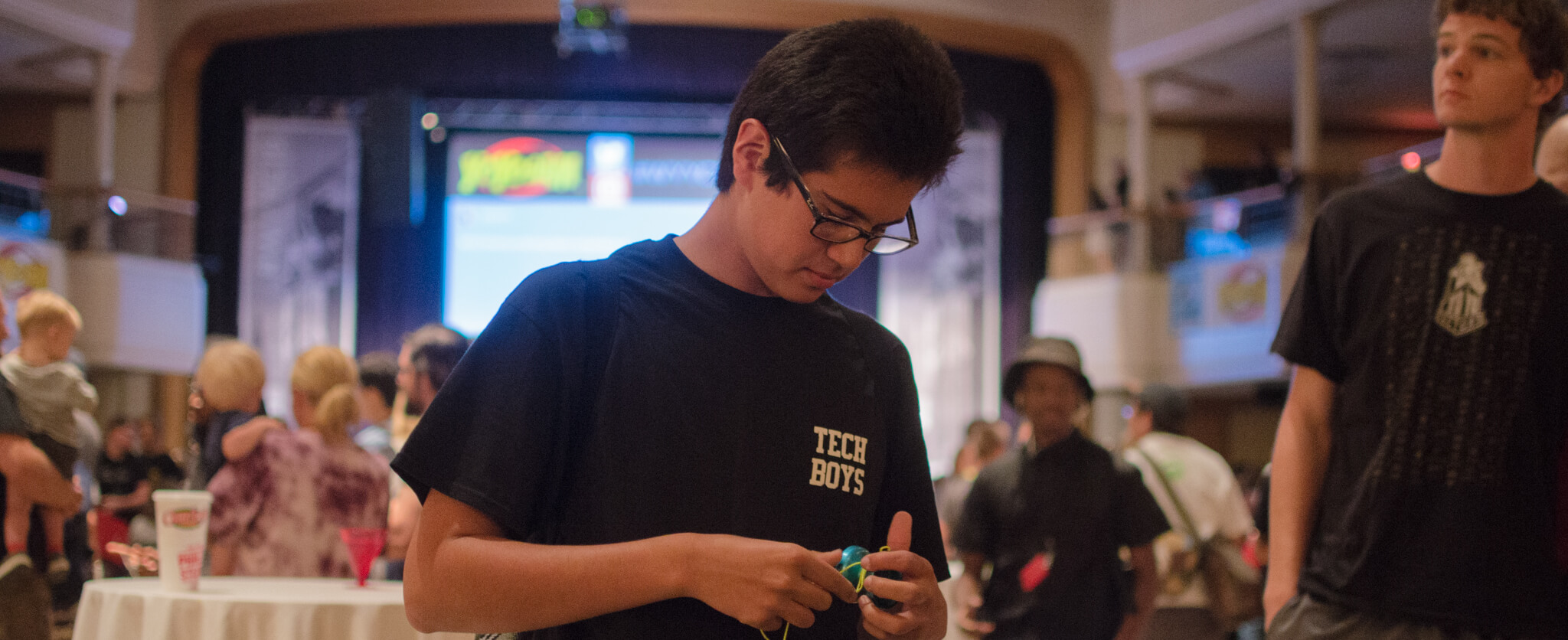 Greg Angel
Introduction
Greg has been a strong supporter of our cause since the day he stopped by our shop on his way to visit his grandparents here in Oregon. We've had our eyes on him for years and are excited watch him blossom as a part of our talented team. As a member of the Tech Creators, Greg is always on the hunt to expand and polish his library of tricks. We're glad to be working by his side as he treks through this journey.
YoYo History
I had played with yoyos about as much as the average person throughout my life, but never really got into it in earnest until I saw Ben Conde's 2011 Worlds freestyle (the one where he made it rain). Intrigued, I searched the internet and found yoyoexpert.com and got my grandpa to order me a Dark Magic II for Christmas 2012.
I spent hours every week staring at a computer monitor at Yoyoexpert's inventory, dying to get my hands on a metal yoyo. I ended up snagging a Cal States 2013 Summit, after hearing high praise about One Drop and CLYW. At the contest, I didn't do much besides buy the Summit; I mostly watched from a distance and talked to nobody because I was so nervous.
The first turning point in my yoyoing career was May 6, 2014. I was watching Andrew Maider's 2013 BAC freestyle, and I realized that I wanted to make tech. I scrapped everything that I had made up to that point and started fresh. Later that year, I found the Russian yoyoing scene through the Battle4Fame competition. I was enthralled by the complexity and smoothness of players such as, Lazar Medvedev, Ivan Maslin, and Nikita Apon. I studied their movements attentively to try to incorporate them into my style.
About a month later, I am on my way to Oregon to see my grandparents, and I remember that One Drop has a shop in Eugene. After some back and forth with Paul Dang, I got my dad to bring me to the shop. I was amazed by all the yoyos and how friendly everyone was. After seeing how genuinely excited everyone was about yoyoing and how much the team members do to spread their love of yoyoing, I have been happy to support One Drop throughout my yoyoing career.
The second turning point was May 8, 2016. That was the day Nehemiah Peterson invited me to Tech Creators. It has been great to be part of a concerted effort to show others my favorite aspect of yoyoing. The group's support and meeting many of the Tech Creators at Worlds 2016 has also helped push me to create more. I plan to upload more tutorials and some discussion videos on our YouTube channel in the future, so stay tuned!
Between classes and work, I have limited time to throw. Though the time I spend yoyoing has greatly decreased, my love for it has not. At this point, my focus lies in making tech that involves more flow and better zoning, which my repertoire is lacking. Fortunately, I have some talented players and friends in Nem and Drew, who help me improve.
It is an honor to be a part of One Drop Yoyos, and I am very grateful to Shawn, David, and Paul for continuing to support me in my yoyo related endeavors.