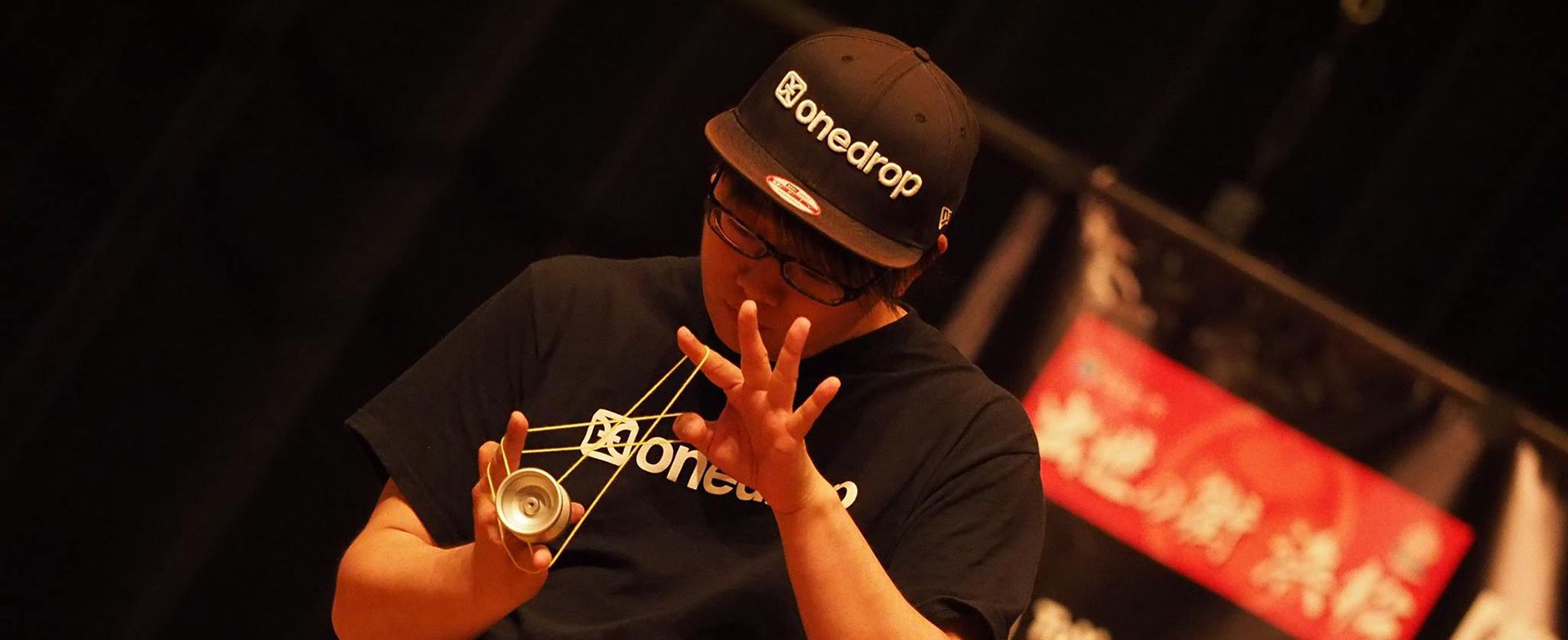 Ryosuke Kawamura
Introduction
Ryosuke is the first member of our team from Japan. By joining yoyo contests, making video clips, head judging and helping organizing 44CLASH he is very much involved in the japanese yoyoing scene.
After graduating from Fashion and Design School, Ryosuke set his eyes on starting up his own apparel company, "Gravity Pull".
YoYo History
"I started playing with yoyo when I saw in elementary school and saw on TV that surfers were playing with yoyo while they were waiting for the right wave to surf. As soon as I saw that I wanted play with yoyo, so I went to the toy store and bought one and I was into it. A year after that, Bandai started promoting Hyper yoyo and hyper yoyo boom began in Japan.
I started to play with hyper yoyo and number of kids playing with yoyo increased in my town, made a lot of friends and I used to love to play with yoyo all day as soon as I got home from school. I practiced everyday and got tested with tricks as soon as I learned some new tricks and competed against my friends.
Around 2000 the yoyo boom was over and a number of stores who carried yoyos and strings decreased so I wasn't able to play with yoyo very much. Couple years later I got in high school and I saw a boy playing with yoyo on TV,felt nostalgic and shocked. He was doing a lot of tricks that I've never seen before and made me notice that there were so many things you can still do and I got into yoyo again.
The boy I saw on TV was a 2A player who is known around the world, Koji Yokoyama. I started practicing 2A with the yoyos that I used to play with. After while, I found out through internet that there were 5 divisions in contest, and I got interested in 1A. As I saw more videos online, I found a player who did the style that I liked. His name was Mark Montgomery, who I still look up to. I like his unique playstyle, and his aura as an player. I started to do 1A, and I started to go to yoyo meets, and I started to run Hachiouji yoyo meet in Tokyo. As we had more meets, I started to make more friends and I started making it into finals at contest from practicing with friends and competing against each other.
As yoyo companies started to make yoyos out of metal, I met the Project by One Drop. One Drop's yoyo played great and it matched my playstyle, and I became fan of One drop immediately. Eventually, I had a dream of becoming a team member of One Drop.
As the technology of yoyo evolved, I met a person who changed my yoyo life. That person was Masanobu Iwata. He asked me to become a head judge for 44CLASH because I ran the yoyo meet and I knew how to judge. Masanobu, Dee and I ran the 44CLASH together, and it became one of the most recognized yoyo contest.
Finally in 2012, another big change in my yoyo life happened. I finally got accepted to join One Drop team. I am so happy that I never gave up.
I would like to thank Shawn, David, One Drop team member, and my friends who have supported me."